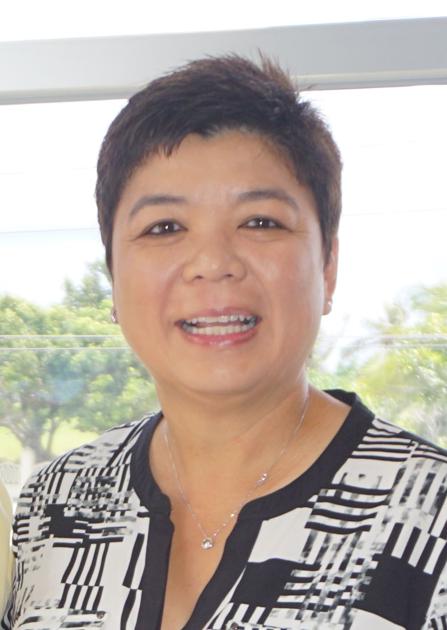 Q: How old were you when you had your first paying job? What was that job? Walk me through your resumé, particularly why you changed from one job to the next.
A: The Athlete's Foot in high school where the Guam Premier Outlets (GPO) stands now was my first job… so I could buy the coolest basketball shoes!
After graduating from college, I returned home and proudly worked as an airframe and power plant mechanic for Continental Micronesia. While that was a great job, an opportunity came up with Mobil that fit my personal career goals. I held various positions during my 14 years with Mobil with my last job as operations manager for the region.
Recognizing that my roots in Guam and Micronesia were growing deeper, I decided that I wanted to lead a company that promoted local talent and gives back to the islands. That's where I found Matson, whose core values aligned with mine. I am very fortunate and thankful that the company entrusts me with the leadership role I have today.
Q: Can you tell me about a time when you almost gave up? How did you feel? What did you do instead of giving up?
A: Truthfully, I can't think of a time that this has happened. I live by the words, "Show no signs of weakness." Giving up is simply not an option.
Q: Tell me the story of your successes. Do you consider yourself a success? What are your success habits, or the keys to success?
A: Everyone has a different definition and measurement of success. I would measure my success by the number of leaders I develop and who make a positive impact with their careers.
What's important to me is building strong relationships, building trust, developing people and being a positive influence.
Most importantly, I never forget where I come from. I stay grounded and try to remember all of those who have helped me with these accomplishments.
Q: What motivates you to get out of bed in the morning?
A: I enjoy my work and the people I work with. I enjoy the interaction with customers or others and doing something positive for them.
Q: How do you push through your worst times?
A: Incredibly good coping skills. The last three years have been the most difficult times of my life, personally and professionally.
I persevered with the good coping skills that were instilled in me as a child. Failure and weakness is not an option.
Surrounding myself with good people like friends, family, and even customers and coworkers have helped me get through my most difficult times in recent years.
Q: What keeps you awake at night?
A: "Everything. How my team is going to tackle the next challenge. What new projects we can take on. How I'm going to motivate someone. How I'm going to have fun. A cool new business idea with my friends, and lately, what I'm going to pack for my next trip! Everything. I need to sleep more."
Source: Google News : https://www.postguam.com/entertainment/lifestyle/no-signs-of-weakness/article_d8dee1e0-b53c-11e7-8fe4-7320177344a0.html