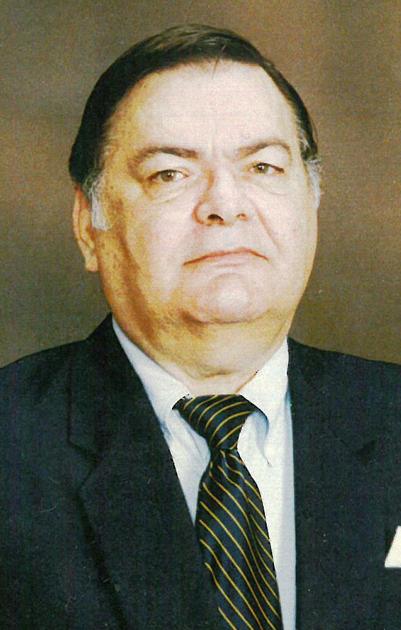 William Herman Stewart, passed away to join his Lord on December 5, 2018.
He was born in Charleston, to the late Katherine Holstein Stewart and William Stewart Sr., also of Charleston. He also was preceded in death by his wife and childhood sweetheart, Elizabeth Ann Botkin Stewart, also of Charleston, who passed on November 26, 2018.
Bill was a member of Beni Kedem Temple, Charleston. His favorite hymn was The Great Physician Now is Near, published 1859 by William Hunter, John Stockton.
Bill is survived by his daughter, Kathryn Ann Stewart McDonald; his sister, Carolyn Susan Stewart Relly; sister-in-law, Elsa Jane Botkin; niece, Elaine Paige Tan; and great nieces and nephews, Shannon, Alex, Harrah of Houston, Texas
Bill Stewart served as an economic advisor to the High Commissioner of the Trust Territory of the Pacific Islands and as such one of the few American administrators of he former Japanese Mandated Islands of World War II fame. Stewart is a graduate of the University of Charleston and the United States Industrial College of the Armed Forces (now the National Defense University) Cold War curriculum concerning the "Economics of National Security." He is the recipient of the Department of Defense "Cold War Certificate" for services rendered to the United States Government as a Foreign Service officer. He received a meritorious service award from USAID.
He studied at the U.S. Department of State's Foreign Service Institute and has served in the American Embassies in Africa and Asia as a career foreign service officer with a rank equivalent to Lieutenant Colonel. Other assignments have included economic advisor to the Royal Kingdom of Thailand's Board of Investment; economist for the U.S. Corps of Engineers on the $120 billion Saudi Arabian development plan; banking advisor to development banks in Tunisia, Ivory Coast, Bahamas, Micronesia and the Inter-American Development Bank in Washington.
Stewart is the author of the books: "Saipan in Flames;" "Ghost Fleet of the Truk Lagoon" and the cartographic presentations of the "Mystery Surrounding the Disappearance of Amelia Earhart" and "Bikini Atoll- Nuclear Grave of World War II Warships" As a military historical cartographer, he has mapped many of the Pacific battlefields including Saipan, Tinian, Chuuk and Peliliu. His tourist maps of Guam and Saipan are translated into Chinese, Japanese and Korean, as well as English. Many of his publications are retained by the U.S. Library of Congress, The National Geographic Society, National Archives, Vatican Archives and many universities. He was appointed by high commissioner Edward T. Johnson, Department of Interior, to position of Director of the territory's first census.
Stewart has served as the senior economist for the Northern Mariana Islands, Chuuk and Palau and has been a frequent contributor of economic and historical articles for the Saipan Tribune, Marianas Variety, Umanidat, A journal of the Humanities; The Journal of Pacific Societies, (Tokyo). Many essays have been translated and published in the Japanese and Chinese languages.
Recently, he has worked as a consultant in the field of forensic economics.
A memorial service will be held at 1 p.m. Saturday, December 22, at Barlow Bonsall Funeral Home, with Reverend Archie Snedegar officiating. Interment at St. Mark's Cemetery on Norwood Road will follow for family at a later date.
Visitation will be held 30 minutes prior to the service at the funeral home.
You may send condolences to the family at www.barlowbonsall.com.
Barlow Bonsall Funeral Home has been entrusted to handle the arrangements.
Ball, Rose — 11 a.m., Ellyson Mortuary, Glenville.
Boswell, Norman — 1 p.m., Preston Funeral Home, Charleston.
Collins, James — 2:30 p.m., Donel C. Kinnard Memorial State Veterans Cemetery, Dunbar.
Cope, Miller — 11 a.m., First Presbyterian Church, Logan.
Cuisset, Gerard — 11 a.m., Barlow Bonsall Funeral Home, Charleston.
Drake, Sonja — 11 a.m., Taylor Funeral Home, Spencer.
Graley, Kathy — 1:30 p.m., O'Dell Funeral Home, Montgomery.
Hamrick, Virginia — Noon, Elk Funeral Home, Charleston.
Hopkins, Erma — 1 p.m., Fidler and Frame Funeral Home, Belle.
Jones, Carolyn — Noon, West Virginia Home Mission, Nitro.
Jones, Perry — 6 p.m., Pea Ridge United Methodist Church, Huntington.
Lowers, Arley — 1 p.m., Taylor – Vandale Funeral Home, Spencer.
Lucas, Carolyn — 3 p.m., Chapman Funeral Home, Hurricane.
McDowell, Dolly — 1 p.m., Allen Funeral Home, Hurricane.
Olive, Paul — 1 p.m., Hafer Funeral Home, Elkview.
Roe, Roy — 1 p.m., Leonard Johnson Funeral Home, Marmet.
Shinn, Patricia — 12:30 p.m., Chapman Funeral Home, Hurricane.
Stone, Carole — Noon, Handley Funeral Home, Danville.
Source: Google News : https://www.wvgazettemail.com/obituaries/william-h-stewart/article_e4a05329-ec4a-5773-90cb-437afc1dd578.html