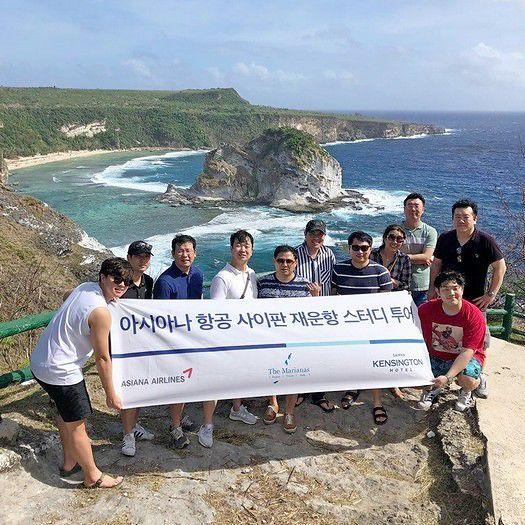 To reassure Korean travelers of the recovery of the Marianas following Supertyphoon Yutu in October 2018, the Marianas Visitors Authority and Asiana Airlines recently hosted a familiarization, or "fam," tour of the Mariana Islands for 13 key industry partners from Korea to see the destination in person, MVA announced in a release. The fam tour was intended to reassure Korean travelers of the Marianas' recovery following Supertyphoon Yutu in October 2018
Representatives from seven major agencies – DFS Korea, Asiana Airlines and Micronesia Resort Inc., which owns Kensington Hotel Saipan, Pacific Islands Club Saipan and Coral Ocean Golf Resort – arrived via Asiana on Dec. 20, 2018, the airline's first flight to Saipan from Incheon since the storm, according to the release.
"The group started their four-night stay at a welcome dinner with MVA, hotel partners and land operators at Kensington Hotel Saipan," the release stated. "The following day, agency needs for their respective Marianas tour packages were discussed, and a meeting was held with industry partners and land operators to discuss how quickly partners had or would be returning to normal activity, especially package sales."
MVA Managing Director Christopher Concepcion said the tour was "critical in reassuring the Korean market that the Marianas is still beautiful and is back in business following Yutu, which had received extensive media coverage in Korea."
"Throughout their visit, the travel representatives gained first-hand experience of our post-typhoon condition," Concepcion said. "They expressed surprise at how fast we have recovered. Each travel agency committed to delivering their impressions to potential travelers to the Marianas, and so we hope this helps the Korean market fully recover faster."
The group conducted site inspections at PIC Saipan, Fiesta Resort & Spa, Kanoa Resort, Hyatt Regency Saipan, Aqua Resort Club and T Galleria by DFS. They also visited popular tourist sites including Bird Island Lookout, Banzai Cliff, Korean Memorial and Managaha.
Asiana Airlines provided complimentary round-trip air tickets for all participants. Kensington Hotel Saipan gave complimentary accommodation, including breakfast, and DFS included a discount coupon with its property inspection.
Source: Google News : https://www.postguam.com/news/cnmi/korean-tourism-representatives-tour-marianas/article_8355ab90-13b5-11e9-98bf-03d9e2ba685d.html