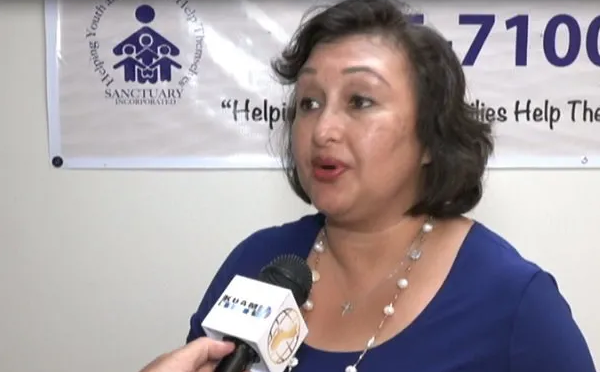 2018 was a busy year for Sanctuary, Incorporated. The last 12 months were quite the productive year for its programs, and the organization shed some light on what 2019 has in store for the island's longest running non-profit organization.
From celebrating 47 years here on island to finally owning the title to the property and buildings in which Sanctuary is located, it has been a year full of blessings for the non-profit. Executive Director Theresa Arriola said, "Through a HUD and a GHURA grant, this compound in Chalan Pago was built. And now it's turned over to Sanctuary. After 15 years of using it for the purpose of which we applied for, the title is turned over to Sanctuary."
Established in 1971 as an alternative to the juvenile justice system for runaway, homeless, neglected, and abused youth, Sanctuary, Incorporated has helped thousands and thousands of at-risk kids. And this year, they have been afforded wonderful opportunities thanks to corporate sponsors and individuals within the community, who wanted to help the kids in shelter and the kids in outpatient groups.
"We run several shelter programs for kids who find themselves without a home, for one reason or another, they are taken away from their home because of abuse, neglect, or homelessness," added Arriola.
Sanctuary offers a 24-hour crisis hotline. That number is 475-7100. The hotline is available 365 days of the year.
"Families that find themselves struggling, or in crisis whether it's the family in crisis or the child or parent in crisis, we encourage everyone to use the hotline, that our crisis manager is so connected to the other players in the community," she continued.
Offered along with shelter programs, is supportive services and counseling groups, community outreach and the AmeriCorps Program.
"One of our major anchor programs here at sanctuary is a program called Sagan Na'homlo, which means a place for healing. It's Guam's and the Micronesia region's only residential treatment facility," she said.
This year, Sanctuary received a grant to establish a culturally-based curriculum that will be used for summer camps and after-school programs. "We're working very closely with the University of Guam through the advisement of Dr. Mike Bevacqua to build a curriculum to build a resiliency of our young youth through the teaching and through the traditions of Chamorro culture," Arriola explained.
Arriola says that with the great staff and the constant application of federal grants along with government partners like DYA, Guam Behavioral Health and Wellness Center, so much has been possible. When thinking about all the support and love that the organization has and continues to receive from the island community from businesses, families, schools, and individuals…a teary-eyed Arriola says she is forever grateful.
"I can't even begin to tell you how thankful and grateful we are, for the generosity that is outpoured…sorry, it's very emotional," she said. "A very humbling, humbling experience to be the leader of this great organization. That's constantly helping and wanting every child to be loved and cared for because every child deserves to be loved."
For more information, visit their new and improved website at sanctuaryguam.com. You can also, find and like their page on Facebook under Sanctuary Incorporated of Guam.
Source: Google News : http://www.kuam.com/story/39703266/2018/12/Thursday/2018-was-busy-year-for-sanctuary